Telephone Balance Unit
The TC22 line-powered telephone balance unit provides a high degree of separation between send and receive signals, enabling 4-wire communications systems to interface with the telephone network. In telephone IFB applications, the high drive capacity at the 4-wire output enables a presenter's earpiece to be connected directly to the unit without an external amplifier.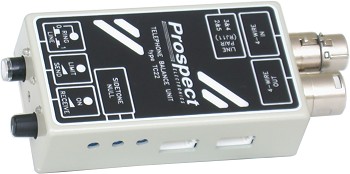 Isolated, full-duplex 4-wire interface to non-digital telephone direct exchange lines.
The unit is line powered, requiring no battery or external power.
Simple optimization of sidetone rejection with any country's telephone system.
LED's indicate "ring" and "off hook" conditions.
Input level control with line-sensing limiter and limit indicator.
High drive output with level control for direct feed to presenter's earpiece, etc.
Loop-through British & American line sockets provide universal connection to line and telephone set.
Connection to the telephone set is maintained while the unit is in use.
Small, rugged metal case with XLR3 male & female 4-wire connectors.