Telephone Line Coupler
The TC10 provides a low-loss audio interface to a telephone line. The line-powered unit is compatible with all analogue direct exchange lines, and includes both an LED indication of incoming calls and a ringer with mute switch. Although the unit is commonly used with an earpiece amplifier to receive an audio feed by telephone from the studio, it can also be used to couple the studio output to the line.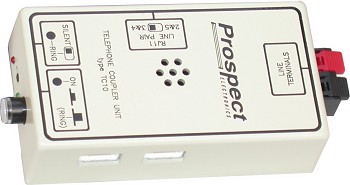 Audio interface to analogue direct exchange lines - send or receive with electrical isolation from line.
Line powered - requires no battery or external power.
Indicator LED's show "ring" and "in use" conditions.
Internal ringer, with "silent" switch.
Loop-thru line sockets provide in-line connection with existing telephone.
Line connections to British or American sockets, or spring terminals.
Existing telephone remains connected when the unit is in use.
XLR3 male audio connector.