IFB Amplifier
The C1MB battery-powered belt-pack unit allows either loudspeaker or headphone monitoring of a cable- connected audio signal, and would typically be used to drive a presenter's earpiece with an IFB feed.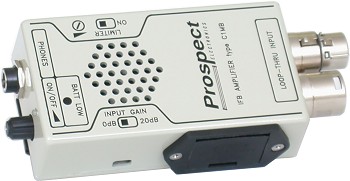 Output stage senses load-impedance to provide near-constant sound level in all headphone types.
Selectable limiter prevents clipping distortion and damage to hearing with earpieces & headphones.
Built-in 0.5W speaker & amplifier (power to the amplifier is cut when headphones are connected).
Loop-through male & female XLR connectors enable several units to be driven from a single feed.
Headphone output on "A" gauge 6.35mm jack.
Very low battery consumption - up to 200 hours' use when driving a high impedance earpiece.
Low battery voltage indicator.